Reading Time:
3
minutes
Back-office mortgage loan origination processes are known to be somewhat cumbersome, but some origination processes, like government-insuring, require an even higher level of detail, accuracy, and timeliness. I spoke with Tara Cormier, Division President, Mortgage Fulfillment at Consolidated Analytics to better understand the particulars related to government insuring and why fulfillment for this aspect of mortgage loan origination is both popular and practical.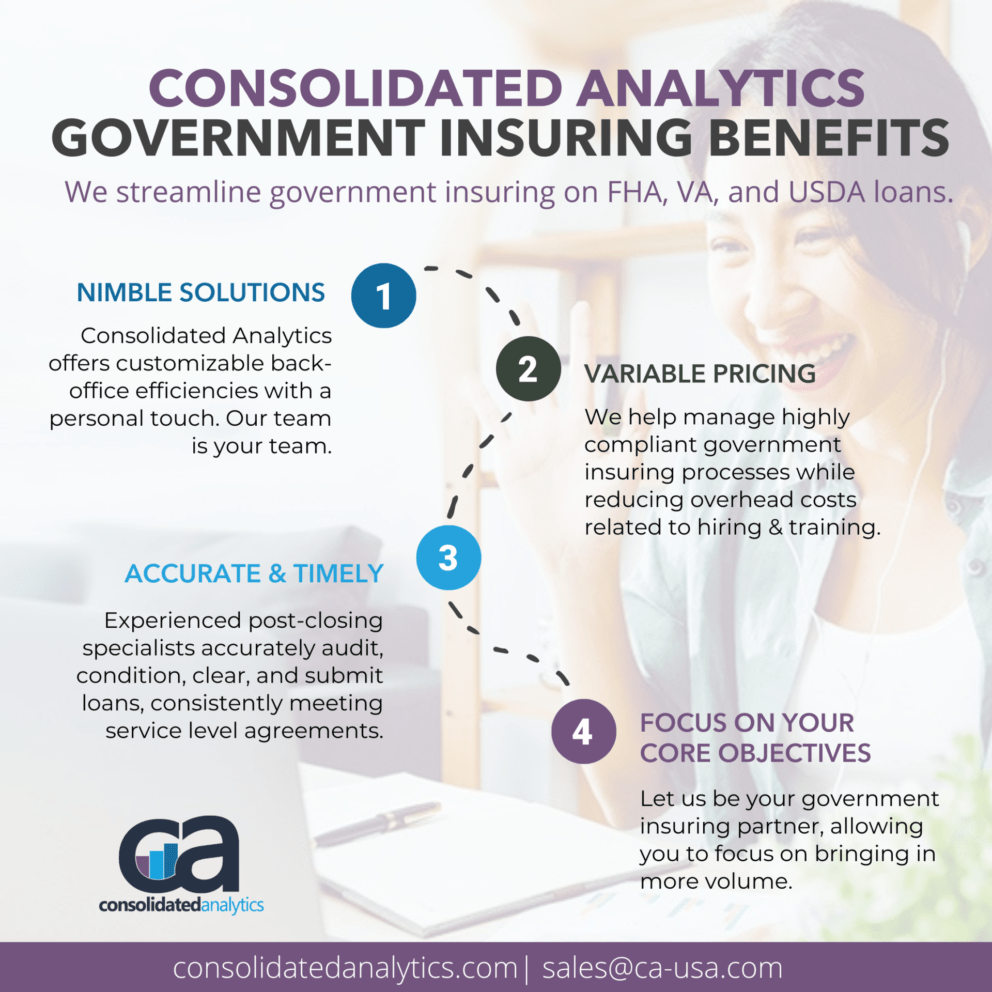 Question: Before we talk specifics, help our readers understand what the "government insuring" process is?
Tara: Lenders who offer FHA/VA/USDA loans to borrowers are offering loans that require little -and sometimes no- down payment since these loans are fully insured by government agencies such as the Federal Housing Administration (FHA) department of HUD, the Veterans Affairs (VA), or the United States Department of Agriculture (USDA).  When lenders offer borrowers fully insured loans by the government, they take on less financial risk with borrowers since there is no liability to the lender should the borrower default. Since the government insures the loan, the government will pay it off if the borrower defaults.
Question: How popular are government-backed loans today in the residential mortgage market? Why do borrowers choose an FHA over a conventional mortgage?
Tara: As of now, FHA loans make up a significant share of the market. Loans backed by the VA, USDA, and FHA may attract borrowers who do not qualify for a conventional loan or may not have the down payment funds required to obtain a conventional loan. This is great for first-time homebuyers with limited savings, military veterans whose service prevented them from saving large sums, or individuals with a lower credit score.
Question: Why is it important for lenders to process a government-insured loan correctly?
Tara: Although government-insured loans lessen the financial risk for lenders and enable them to lend to a broader credit profile, that does not mean that there is no risk at all. When processing government-insured loans, the lender needs heightened levels of diligence around key timelines, application accuracy, compliance, and completeness of documentation. Getting the government insuring process right will determine the lender gets the loan insured on time. If the lender does not get the loan insured prior to the borrower's first payment – and the borrower does not make that payment – the lender owns the loan.
Question: Can you sum up the key benefits of working with Consolidated Analytics' fulfillment group to take this process on for the lender?
Tara: Aside from the exceptional pull-through rates on government-insured loans and fewer missed timelines, there are a number of reasons a lender comes to Consolidated Analytics for Government Insuring Fulfillment. Here are a few:
We offer customizable back-office solutions for increased efficiencies. Our ability to quickly embrace the client's processes is something we are proud of. It is also something other BPS providers tend to struggle with once they become very large. We look at it as "our team is your team" which improves process efficiencies, client alignment, and communication with stakeholders.
We help lenders shift fixed costs to variable. Since volumes change, clients will work with our team to scale their operations (up or down) based on market demand.
Our team has years and years of experience in post-close mortgage fulfillment operations, including Government Insuring Fulfillment. We are known for consistently meeting client SLAs and streamlining the entire process for the client. Additionally, because our solutions span the origination cycle (pre and post-close), we are able to solve other process bottlenecks for the client if, and when, they arise.
The client can focus on their core objectives. Whether the client is building a pipeline or strengthening front-end borrower communication strategies, our Fulfillment solutions are designed to minimize time spent on cumbersome processes, like government-insuring, and give time back to the lender.
If you are interested in learning how Government Insuring Fulfillment might be able to help your organization remain efficient and nimble, please email sales@ca-usa.com.