Consolidated Analytics: We RISE Together
Brimming with enthusiastic, ambitious individuals, our employees are the embodiment of our RISE culture.  They don't just show up to punch a time-card. Instead, they RISE to meet new challenges: Reaching. Innovating. Succeeding with Excellence.
We are proud of our team members who are energized by opportunity, empowered by client results, passionate about innovation, and committed to growth. When an employee grows, we all grow. We all RISE together.
Comprehensive Benefits
As a rapidly growing organization, we provide regular full-time employees a comprehensive and competitive benefits package covering medical, dental, vision, 401(k), and more.
Learning & Development
We know that career growth is important to you. We are committed to helping you explore your talents through one-on-one mentoring, departmental cross-training, and company-wide training. As you develop and grow, we want to be right there with you.
Celebration of Your Success
We celebrate performance, success, and contributions and encourage company-wide connectivity. Our goal is to give our employee community an opportunity to interact, explore new ideas, and join forces to create new solutions.
"

In the Words of Our Team!
"I am grateful to Consolidated for the opportunity and for helping me to grow and exceed my expectations. I continue to celebrate our managers, coworkers, the business that we have in a company that I love. I value this company and all its richness encompassed by its resources, great leadership, and all the wonderful gestures "always" – especially during a pandemic."
– Cecilia Alonso, Senior Closer | Funder
"Since joining Consolidated Analytics, I've experienced a surprising amount of growth! My managers give me interesting and challenging work while providing me with resources to ensure my success. Additionally, since we support every type of mortgage client, I have gained knowledge and understanding of the full loan lifecycle, including the economic impact to each area of the industry and how our services support every phase. I am appreciative of the support and experience!
– Fintan Garrett, Manager FP&A Analyst 
You Do You.
Diversity is important to us at Consolidated Analytics as we see the positive impact on how our teams operate, interact, and solve small and large problems alike:
Different perspectives and thinking help us create more thorough and well-thought out solutions.
Unique backgrounds and lifestyles keep our team members engaged and learning about each other (great for team building!).
Individual life experiences help foster outside-of-the-box thinking. Simply put, we inspire one and other.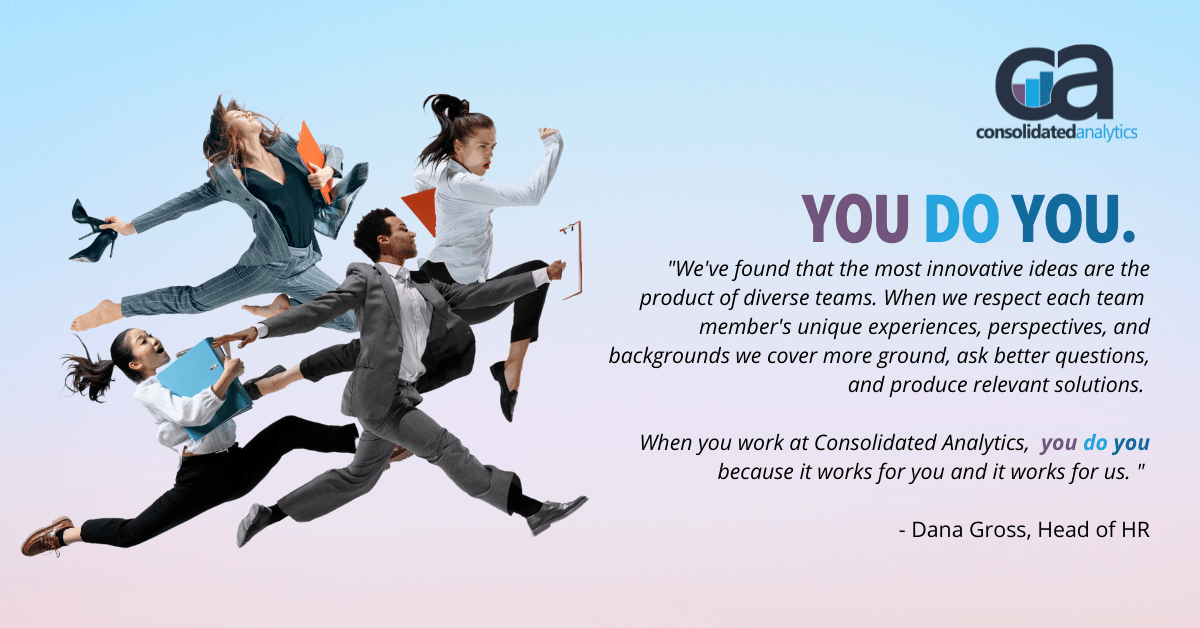 An Unwavering Commitment to Our Core Values
The talent we hire and the teams we develop consistently mirror our core values. We are proud of our employees for their knowledge, talent, skills, ambition, and grit. We are proud of the way our employees choose to work: with honesty, integrity, thoughtfulness, and innovation; and with a focus on delivering value to the client.  It's why we continue to grow year over year. It's why our retention rates are high. It's why we look forward to coming to work.