REAL ESTATE ASSET MANAGEMENT
Better Real Estate Asset Management for Better Returns
For over a decade, we've provided exceptional real estate asset management solutions to lenders, servicers, GSEs, and private investors looking to manage institutional and investor-owned portfolios or rental properties efficiently. Whether you are a buy-and-hold investor, an institutional investor, a manager of distressed assets, or a house flipper, we combine our extensive "boots on the ground" market resources with highly refined processes, and customizable solutions to streamline asset management, accelerate turn-times, and maximize portfolio and asset returns.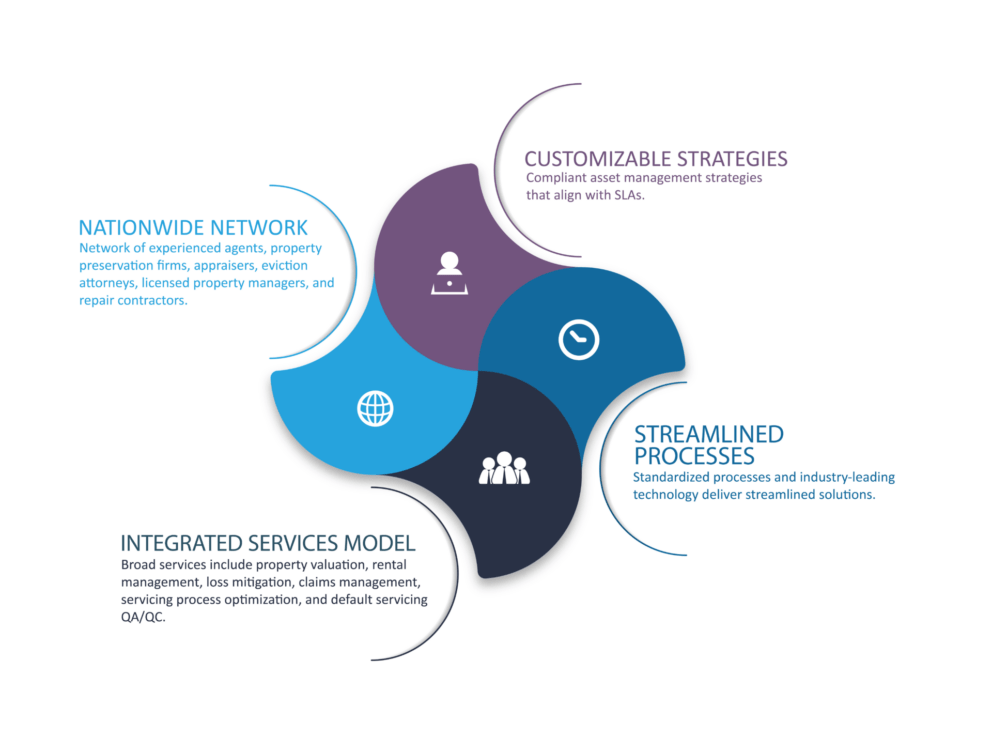 Our Approach
Consolidated Analytics leverages our extensive transaction management experience to improve asset retention and increase client cash flow on post-foreclosure sales or deed-in-lieu assets. Whether we are marketing, managing, and liquidating an asset or supporting a rental strategy, Consolidated Analytics' solutions improve portfolio and real estate asset returns for our clients.
REO Asset Management
Leveraging a nationwide network of experienced agents and a dedicated and experienced team of REO asset management professionals, we help institutional asset owners streamline and simplify the management and sale of properties nationwide.
Rental Property Management 
We provide comprehensive solutions, including asset marketing, leasing, rent collection, eviction oversight, rehabbing, maintaining, and preserving the property for the tenant and client.
Asset Strategies
We recognize that no two assets are alike, and what works for one may not work for another. Therefore, we provide a deep-dive analysis of the asset value, condition, and local market to determine the best disposition path for the assets in your portfolio.
Eviction Oversight
Managing evictions is cumbersome; the slightest error could result in fees or fines. Consolidated Analytics' tenured eviction management team oversees the eviction process for occupant and personal property evictions.
A Collaborative Team Focused on Your Needs
Our integrative approach across the organization can benefit your business throughout the mortgage lifecycle. We provide expertise related to a broad range of industry solutions, including:
Business Process Services for loss mitigation, default, claims, bankruptcy, and foreclosure
UW expertise for whole loans, RMBS, warehouse line, servicing quality control, and more
Property valuation solutions that deliver accurate, thorough results
Operational consultants with servicing and default expertise