Reading Time:
2
minutes
On June 28, 2021, the Consumer Financial Protection Bureau (CFPB) issued its "2021 Mortgage Servicing COVID-19 Rule," protecting borrowers against financial distress and guiding mortgage servicers facing large volumes of loss mitigation requests following the end of the federal foreclosure moratoria.
The new rule goes into effect on August 31, 2021 (the day the moratoria expires) and it affects loans on primary residences. Let's look at the rule and its implications to servicers after that date:
Rule Objective:
Prevent Avoidable Foreclosures by establishing protocols and safeguards to ensure borrowers in serious delinquency are given the opportunity to be considered for all loss mitigation options.
Enable mortgage servicers to hasten assistance to borrowers through streamlined loan modifications.
Ensure mortgage servicers improve communication and outreach regarding repayment and loss mitigation options prior to initiating foreclosure.
Key Stats:
Estimated 2 million homeowners are in a COVID-19 forbearance hardship program (CFPB)
There is a 6.38 percent delinquency rate on residential loans (MBA National Delinquency Survey).
Rule Snapshot: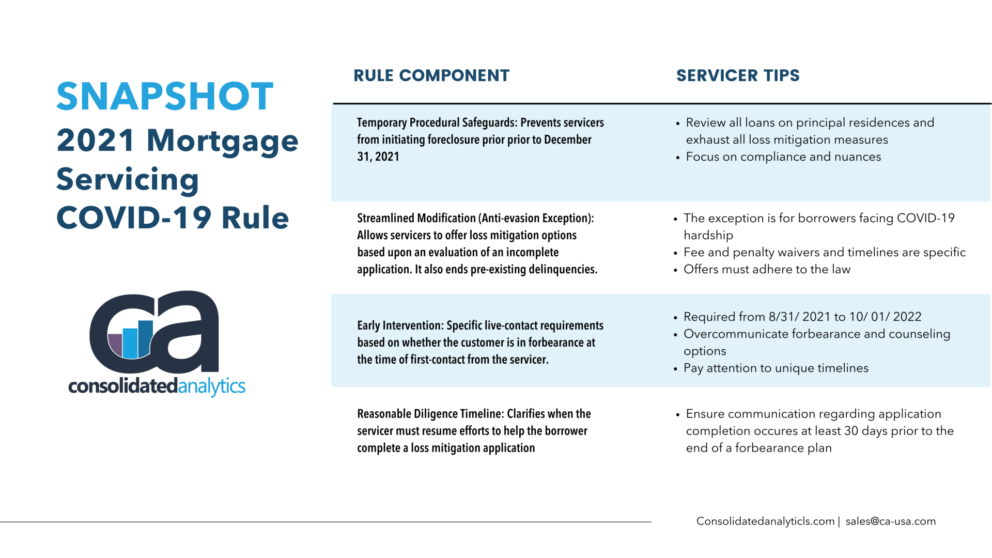 Impact:
Starting August 30, 2021, servicers will face more significant loss mitigation volume pressures to the tune of two million homeowners. The rule eases up on previous loan modification requirements to make it easier for borrowers to access these programs. However, the rule is not without its own set of nuances. Servicers supporting borrowers will need to focus on the following three areas: capacity, compliance, and operational excellence.
Providing loss mitigation options to all borrowers — no matter where they are in their post-forbearance journeys — is essential; still, the cost of doing it wrong could adversely impact your customers or result in fines from the CFPB. Consolidated Analytics can help mortgage servicers ramp up their loss mitigation servicing efforts quickly and correctly while ensuring a positive customer experience. We provide our clients with access to expert resources focused on improving loss mitigation success rates. Quickly scale to meet your loss mitigation volume demands with our business process services, staff augmentation, and mortgage consulting/ SME placement.